5 Must See 80's Magical Girl Anime
📺 Watch this video or keep scrolling to read instead! : ) 📖
Isn't life magical?
No? Well, wouldn't it be nice to just wave a wand and turn yourself into the person that you want to be? Apparently a few animation studios had the same idea during in the 80's.
This genre of anime, known as magical girl anime, has been around for many decades—it didn't start in the 80's. But today I'm here to share a few shows exclusive to the decade.
These shows made me feel magical. In no particular order, here's five magical girl series you've got to check out.
Lalabel
There's something magical about Lalabel. Oh right—she's a magical girl. This series was created by Toei Animation and aired from 1980 to 1981. Lalabel follows the story of a wonderful young lady with a magic wand. She and her pet kitten live happily in the world of magic until something goes horribly wrong!
A mishap causes Lalabel and an evil person named Biscus to fall into the world of humans. The show revolves around her new life amongst humans and struggles against the no good Biscus. The series aims itself towards a younger audience. Lalabel attends school and deals with many struggles any adolescent might face. From first crushes to fighting magical threats from another world, Lalabel is an adorable take on the classic genre.
Creamy Mami, the Magic Angel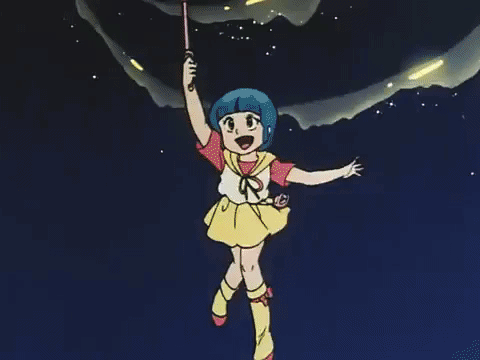 It's not always fun being a child. Older kids always get their way while you have to follow all sorts of rules. If only there were some way to magically transform yourself into an older kid—just for a little while. For Yū Morisawa, this was her reality! Creamy Mami, the Magic Angel was created and released by Studio Pierrot in 1983.
Creamy Mami, the Magic Angel is the story of Yū's double life as Creamy Mami. Creamy Mami isn't 10 years old, she's 16. Not only is she older, but she sings beautifully and happens to be a pop star! The series follows Yū as she explores the extent of her magical powers. Evil threats arise and ultimately drive Creamy Mami to use her abilities for good. The show is generally well received and some consider it an iconic series for the decade.
Magical Emi, the Magic Star Magical Emi, the Magic Star was another magical girl anime from the Studio Pierrot team. Released in 1985, this series follows Mai Kazuki. Mai comes from a family of magicians. Even though she's young, she aspires to join them and works hard towards her dreams. A strange occurrence with a magical fairy, named Topo, leaves Mai with incredible new abilities.
This show has a similar gimmick—if you can call it that at all—to Creamy Mami. Using her magic wand, Mai transforms into an amazing teenage magician named Magical Emi. The series follows her journey to understand her new abilities as a magician. The series is just too cute, and definitely worth checking out.
Persia, the Magic Fairy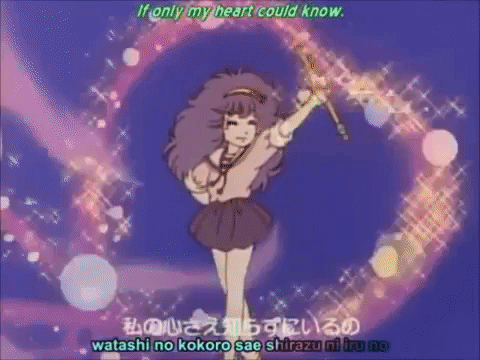 The next entry on this list may be the most familiar. It's Persia, the Magic Fairy! This series was released by Studio Pierrot in 1984. I'm noticing a trend in my list—I promise I don't have a bias towards Studio Pierrot. But I am drawn to the aesthetics of their older anime. I find it easy to invest myself in their shows partly because of their visual appear.
Persia, the Magic Fairy tells the story of a young blue haired girl named Persia. She's spent her life in the African Serengeti alongside lions and giraffes. But it's time for her to leave Africa for the big city of Tokyo! But something strange happens along the way. While sleeping on the plane, she has a magical dream. She's given a special headband that grants her magical powers. But when she wakes up, she still has the headband! What will happen to Persia in Tokyo? You have to find out!
Minky Momo And I finally step away from Studio Pierrot to bring you the magical Minky Momo! Brought to us in 1982 by Production Reed, this magical girl anime explored the complex existence of Minky Momo. Momo is a princess from Fenarinarsa—also known as "The Land Of Dreams In The Sky". She's been sent to Earth to save it by bringing happiness to people.
Momo is accompanied by a variety of friends who help her with her numerous trials. She's able to help those around her by using her magical powers. These powers allow her to transform into a much older version of herself. Each transformation is custom tailored to the situation at hand. She could be a veterinarian, a police officer, or anything to help bring happiness back to Earth. Minky Momo is a classic 80's magical girl anime and might be just what your anime list was missing!
Do you think your friends are magical? I do! That includes you. 😉 If you like lists like these, share this one with a friend. It helps support the site and ensures more weeb content for you in the future. <3
Thanks for checking out this post, for more like it try Retro Anime Classics You Can't Miss!